Alfa Romeo 4C in St Louis Park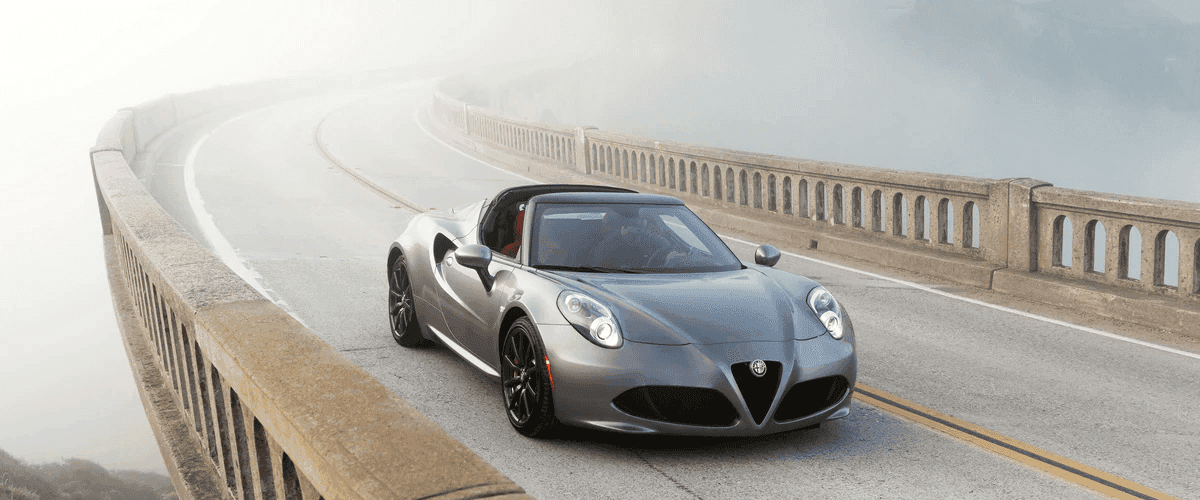 When you think about going for an exhilarating weekend road trip, a two-seat Italian convertible might be the perfect vessel for making the most of it. With the 2020 Alfa Romeo 4C you'll enjoy that experience in a vehicle that delivers passion, eye-catching design, and thrilling performance. Find yours at Alfa Romeo of Minneapolis today!
Performance
With a 1.7-liter turbocharged engine the Alfa Romeo 4C is propelled to 60 mph in just 4.1 seconds. The 237 horsepower and 258 pound-feet of torque may not read like much on paper, but when stuck under the hood of a roadster weighing just under 2,500 pounds it delivers a delightful kick when you put your foot down. The low weight is partially thanks to the carbon fiber unibody chassis which adds safety and strength while simultaneously being lighter than traditional steel.
Technology
A unique rear-view camera puts a small screen on your rear view mirror while in reverse so you only have to look in one place to safely back up. The Alfa DNA Drive mode selector gives you the power to choose your driving experience by adjusting power delivery and suspension settings on the fly. Finally, rear parking sensors will protect your bumpers from accidental scrapes and dents by letting you know when you're close to nearby obstacles.
Design
Sitting on a short wheel base and a wide stance, the 2020 Alfa Romeo 4C looks like a grown-up go-kart. It's small stature helps deliver the engaged driving experience, but also adds a visual layer of sportiness to the roadster. The drop-top is perfect for letting the wind whip through your hair on summer drives, while carbon fiber accents offer a glimpse into the soul of this thrilling two-door.
Visit Our Dealership Today!
To explore the 2020 Alfa Romeo 4C for yourself, visit our Minneapolis dealership today! Test drive this Italian sports car and enjoy feeling connected to the road.